Ulrika Ölund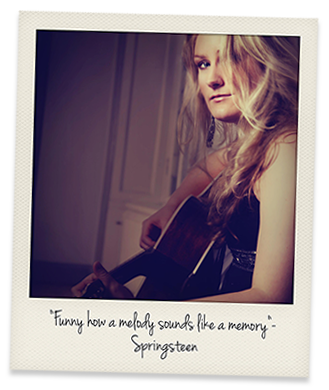 From Undrom to Nashville
Swedish singer/songwriter Ulrika Ölund has been singing for as long as she can remember and started writing her own songs at the age of 16. She's performed on Swedish television as well as national -and international radio stations. She has performed live across Sweden as well as Norway, Denmark, Hungary, Israel and the United States. Ulrika calls Nashville, Tennessee, her musical home and has collaborated with Nashville-based songwriters over the years.
Born and raised in Undrom, Västernorrland, Ulrika currently lives in the city of Gothenburg.
"I grew up in a beautiful small town in the north of Sweden where everyone knows everyone. I was really shy growing up and music became my language. My way of expressing myself and has been so ever since. Today I run my own company. I write my own songs. I'm involved in every little bit that has to do with my music. It's very important for me to stay true to myself and be able to express myself freely."
Pop/country/americana
Ölund's refreshing and memorable melodies can best be described as countrypop or "pop with a taste of country". Revealing a world of highs and lows, love and heartbreak, leaving and staying, playing house and growing up. Her distinctively pretty, quivering vocals highlight her watertight song craft and insightful lyricism. Giving us music that is as wise as it is youthful.
"I am an undefeated dreamer and I believe that my music reflects that. Inspiration comes from my surroundings, people I've met, books, films, as well as from my own experiences. Words play a huge part in my music and I love colorful melodies."
EP, seven singles and an album
Ulrika debuted with her EP "Memorylane" in 2008. She has since released seven singles. Including the popular "Trains" and "Home" which aired on radiostations all across Sweden.
In her critically acclaimed album "Paper Planes and Skylines", released in September 2015, Ölund takes us on a journey from a teenager's fearless restlessness to the challenges of growing up. "Paper Planes and Skylines" contains 10 tracks and masterfully blends traditional Nashvillesound with modern pop.
Achievements
Ulrika Ölunds singing and songwriting has attracted attention from music establishments in Sweden as well as in the U.S. In 2009 her song "Unforgettable" claimed her a semi-finalist position in the Performance Category in the International Songwriting Competition (ISC), leading 15,000 entries from 100 countries. Again in 2012 Ölund won a semi-finalist spot among 7 000 entries from 80 countries. This time in the Unsigned Only Music Competition in the United States.
She has a degree in the Craftsmanship of Songwriting majoring in Popular Music at the reputable Songwriters Academy in Örnsköldsvik, Sweden. Her music has been set to an orchestral accompaniment in Stockholm performed by Stockholm Youth Symphony Orchestra. In 2015 Ölund toured in the U.S. performing live in Washington, Nashville and Chicago. In 2017 Ulrika was invited to play at the official birthday reception of Swedens Prime Minister Stefan Löfven. 
Her single "You Found Me" was released in June 2019 and has gotten airplay in Sweden and Argentina. December 2020 she shared her single "My Christmas" containing two of her personal favorit songs around this time of year dressed in a new coat.
Discography
"My Christmas", Single 2020
"You Found Me", Single 2019
"Borde vara vi", Single, 2017
"Paper Planes and Skylines", Album, 2015
"Joy", Single, 2011
"Trains", Single, 2011
"Längtan efter något större" Single, 2010
"Sick And Tired" Single, 2010
"Memorylane" EP, 2008
Join Ulrika Ölund on Instagram and Facebook. Find her music on Spotify and digital stores worldwide.
Stay tuned for upcoming news!